Andrew Suggit, the Art Director at Gold Coast's TUSK Agency, has an extensive portfolio of conceptual design projects.
Following his Father's career in the construction industry, Andrew first studied a Bachelor of Built Environment in Landscape Architecture. He then realised he much preferred the aesthetic side of developing plans and went back to study the Advanced Diploma in Visual Communication at Design College Australia.
Andrew got his break in the creative industry as a junior designer and then worked in several great studios over a few years. Read much more about this in his interview below.
He then decided to enrol in AWARD school where he credits this time for helping build and refine ideas, and accept criticism to further develop his work.
Andrew's relentless pursuit of building good ideas through visual communication, and a lot of hard work, has allowed Andrew the privilege to work with some of South East Queensland's top studios and add an impressive list of clients to his folio. At TUSK, he's currently rolling out the 2013 Gold Coast SUNS membership campaign.
This proactive approach lead him to create Weatherchat, an intriguing visual diary of Gold Coast's weather. Every single day of the year.
During 2012, Qute Magazine, the Student Guild quarterly publication for QUT was shortlisted for the Create Design Awards and selected as a finalist for the 2012 BAD Awards. It is currently being published in Gallery Magazine. Andrew's designs have also been published in Design: Type, Logo Lounge Master Series and LEAP Magazine; and been a part of a long list of group art shows.
If he couldn't get anymore amazing… In his spare time, Andrew's saving lives on the beaches at North Burleigh.
Read on for more background on Andrew's career so far, and visit his website for a larger selection of his designs.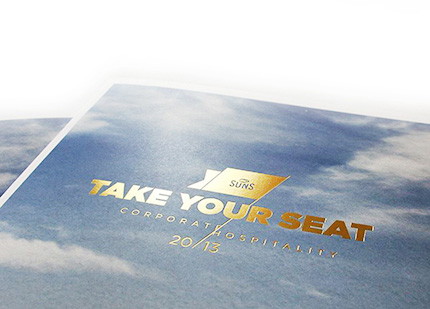 How have you got to where you are today? Describe a little background on why and how you got started…
I always wanted to be a Landscape Architect, my father was in the construction industry growing up and I was always exposed to construction drawings and building sites… It seemed like a natural progression.
After completing a Bachelor of Built Environment majoring in Landscape Architecture, I worked for TRACT in Brisbane City. A year in and I realised that I enjoyed the aesthetic appeal of the conceptual plans then the actual reality of CAD and site inspections, so I made the move to Design College Australia to pursue Visual Communication.
Fresh out of College I worked for Peter Florentzos, Current DIA Queensland Branch Co-President and two years later I headed overseas to Travel.
On return, I freelanced at Cru Creative in the very early years (now CRU Digital) and worked with Damien Bredberg and Ben Stokes. Two of the most talented and hardest working people in their respective fields. It was a goooood time.
From CRU I worked at The Room for 5 years as the Art Director working on Branding and Corporate Communication projects — mainly with annual reports.
After my fill of infographics, I was accepted into AWARD school and that was my light bulb moment when things just started to make sense.
I was taught how to develop ideas exclusive of aesthetic at a rapid rate, accept criticism, and relentlessly push forward.
Now working on the Gold Coast as the Art Director at TUSK Agency, I have been exposed to a design community different like any other I have experienced. Everyone here is so f**king creative, supportive and relentless in what they are trying to achieve as a cohesive whole, and as individuals… One of my favourites being Kenny Smith who was the first person I met on the coast and have recently re-branded and swag of others including the girls at Rabbit&Cocoon, Dominique Falla, Jakrabbit photography, Kiel Tillman and Claudio Kirac most of which you have featured earlier on DM, but the list just goes on and on and on.
In a few words, describe yourself…
His weaknesses are food, cold beer, and writing about his professional history in Third Person.
What are you spending your time on at the moment?
Launching the 2013 Gold Coast SUNS season with the team at TUSK. Turning a side project (weatherchat – 365 days of Gold Coast weather) into an installation. And, collating images for a new project / photomentary of my time on the Gold Coast and planning out 2013.
Do you have a ritual for getting into the creative mindset? Or a creative process?
At TUSK, we have a great research and strategy team that does a lot of the ground work before I touch on conceptual side. I'm not a big fan of rituals, I like to keep it different so in that sense I never approach a project with a set list of 'to-dos' from a creative approach.
I just make sure I'm always filling mental notebooks to draw inspiration upon. Anything and everything can be triggers for that great idea, so keep your eyes open.
What or who inspires you?
My mum. 58 years old. Current champ of the Southern Hemisphere WFF Womans Masters.
What are you most proud of?
I once made it through a KFC super variety bucket and didn't die.
When you were a child, what did you want to be when you grew up?
An Architect.