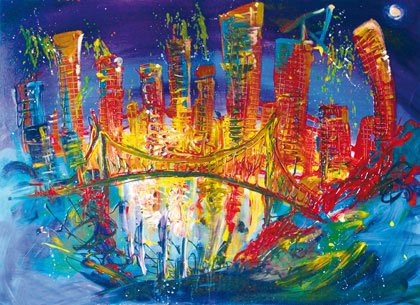 Fire on the River from New Farm (Brisbane Riverfire)
Acrylic on canvas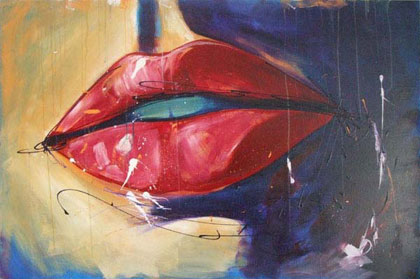 Ruby Lips – 150cm x 100cm
Acrylic on canvas
Paul Gleave is an artist and designer based in the western suburbs of Brisbane with an awesome repertoire of work. Having worked in London for many years as a concept illustrator, digital colourist and then designer, he's now enjoying painting along with graphic and web design projects.
Paul and his wife Lea ran the Bella Art Gallery in Springfield and met them both while going to art classes a couple of years ago – lovely couple! I am a huge fan of his Lips paintings - they are so vibrant and impressive in real life! His style reflects the fast marker-rendering style from his days as a concept illustrator in London. The Bella Art Gallery is now run online and you can purchase art supplies direct from their website.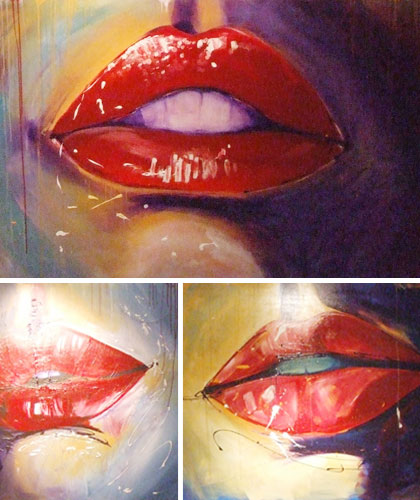 Collection of Paul Gleave Lips paintings (sorry for the crop!)
How have you got to where you are today?
After completing a HND (Higher National Diploma) in Design and Advertising Illustration, at Newcastle Art & Design College (UK), I moved to London to start working in an Illustration Studio where I had done work experience whilst studying. I worked there as a Concept Illustrator producing hand drawn storyboards for TV advertising pitches. I realised that I was starting a career in the marker-rendering industry that was being overtaken very quickly by computers  – and realised that I should do the same, which meant no more drawing!
I then worked for the Science Photo Library in London – initially as a Scanner Operator – but very soon took on the role of Digital Colourist. This was a very enjoyable job as I was allowed full creative freedom to colour SEM's (Scanning Electron Micrographs) and TEM's (Transmission Electron Micrographs) of various viruses, bacteria and infections. This role often involved liaising with the library's science professionals to create "artist's impressions". I used a wacom tablet and pen to "paint" the images with Photoshop.
In 2002, I moved to Brisbane and started working as a Mac Operator. Eventually I became a Senior Designer but over time, this role became more and more administration based, and a little less creative. I thoroughly enjoyed the job, but after 6 years of no painting, I decided to get back into my art. I used to paint landscapes and realism and it wasn't until I returned to my art that I jumped into bright and colourful abstracts.
In a few words, describe yourself…
Easy-going, creative and likes to look on the positive side of life.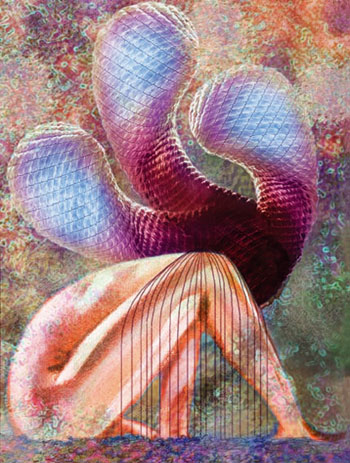 Commissioned work that featured in the Culture Magazine Yearbook
Acrylic on board base, and then digitally retouched.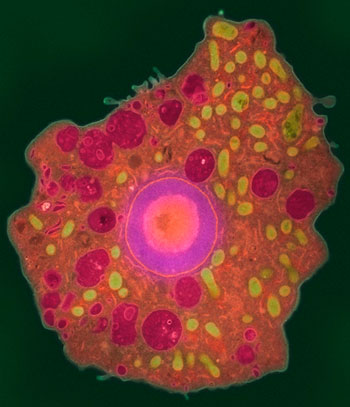 Digital colour work for the Science Photo Library in London
For the geeks…. it's a TEM (Transmission Electron Micrograph) of
a section through a Naegleria Fowleri Protozoan.
What are you spending your time on at the moment?
At the moment I am a stay at home dad until my youngest girl starts school next year. I spend some time at home during the day working on a few freelance graphic design jobs, as well as running the Bella Art Supplies online store.
Do you have a ritual for getting into the creative mindset? Or a creative process?
I definitely have to be in the mood. I don't have a ritual but I need to be excited about something before working on it. I am hoping to grow my freelance design business from home, so I have been learning more background about web design programming. Although this involves a lot of coding, I like the final result when this turns my design into a functioning website, and that is exciting for me.
Sometimes when I paint, I let my mind wonder and use it as time to reflect on everything that's happening, and problem-solve my life in my mind! I usually think with pictures and images.
What or who inspires you?
A person energetic about what they can do! Sometimes if I am stuck in where to go forward, my wife often inspires me as she usually comes to me and states the obvious about where to go next.
What are you most proud of?
I am proud of my wife and kids right now. At the moment my wife and I have toned our lives down quite a bit to focus on them. I also have a very positive outlook on life and am proud to be able to have that.
When you were a child, what did you want to be when you grew up?
When I was about 9, I was interested in biology, astronomy and meteorology… as well as always wanting to draw. I enjoyed working things out in detail and I think I remember saying that I wanted to be a Weatherman or an Astronomer.
I also remember writing a story at school about growing up that I wanted to be a Map Maker (cartographer), as I really loved Geography and looking at where everything was. But I also remember often saying as I child, that I just wanted to draw when I grew up.