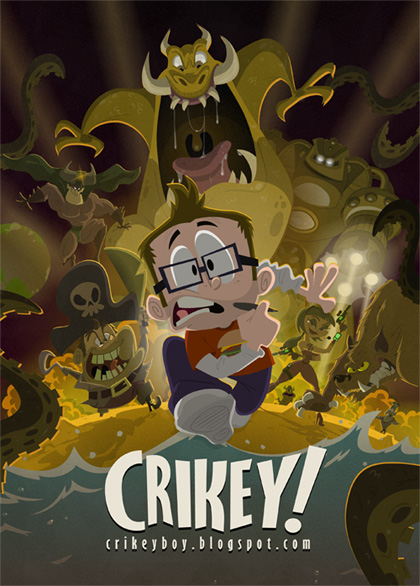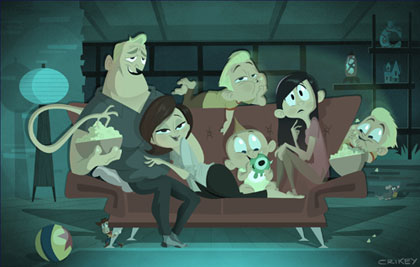 Poster for the release of Chris' first children's book – Alpha Monsters
Every day I am in awe of the talent out there!! Just the other day, I stumbled upon the work of Chris Kennett and was more than impressed!! Having moved from England some years ago, he now resides down in Bendigo as a freelance Flash animator and illustrator.
Plus! To add to his awesome repertoire of work – Chris has just written and illustrated his first children's book – Alpha Monsters! He developed a series of friendly monster flash cards to help teach the alphabet to his son. And a quick couple of years later, (and I'm sure lots of hard work aswell) it was published by Scholastic and is now on the shelves in bookstores! Check out the Alpha Monsters website to find out about online stockists.
You can "like" his Facebook page to see updates of his projects or check out his blog.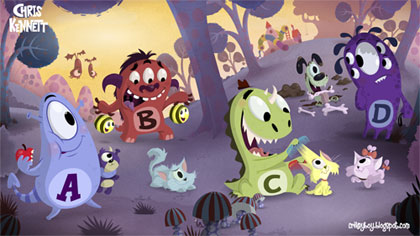 A, B, C and D Monsters from Alpha Monsters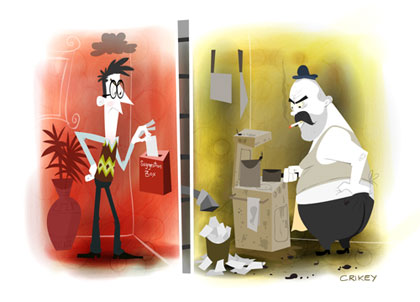 "Your opinion is important to us"
How have you got to where you are today?
I was born and raised in Canterbury, England. I'd always been very keen cartoonist as a kid but never really knew how to make a career of it. I foolishly avoided further education and got a steady job at the local council straight out of High School. My job was photocopying. Erm… That was about it really. I still drew in my spare time but it was becoming more of a hobby, the longer I stayed there.
In 1998 I moved to Australia to be closer to my girlfriend (now wife), and that move forced me to make a decision about what I wanted to be. That's when I tried to make cartoons and illustrations my profession, and not just a hobby.
In 2000, I picked up an early version of Macromedia Flash. For the first time I saw a way of bringing my characters to life and it really got me excited. I taught myself all I could, and just began contacting websites with my embarrassingly poor collection of animations. Somehow I was lucky enough to get steady work with an eCard company in the US.
At first I was just freelancing, but eventually I was a full time employee and paid a wage. The only difference was, I was on the other side of the world to my boss! I learned pretty quickly that self discipline was extremely important to maintain this sort of career. Its not all waking up at noon and crawling into your office in your undies, well sometimes it is, but if you carry on that way you don't last very long.
Then in 2008, the bubble well and truly burst. The company I worked for went bust and I was forced to look elsewhere for work. I started approaching studios that worked with Flash and by that time I'd had a good few years worth of work to show them. I got a few jobs on shows, that didn't really go anywhere or even see the light of day, but by then I had the confidence to produce my own ideas and maintain that with a steady flow of freelancing.
In a few words, describe yourself…
Funnier on paper. I'm actually quite shy in social situations, which may come off as rudeness, but it really isn't. I've spent the last 11 years operating alone out of my office, with very little human contact. As a result I'm far more likely to put a zinger on Facebook than to captivate hoards of dinner party guests with my witty anecdotes. Also I wear glasses.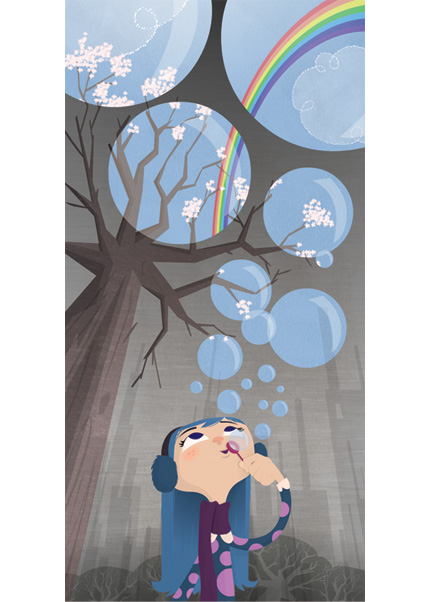 Bubble Rainbow has just been featured as the cover to arts magazine Trouble.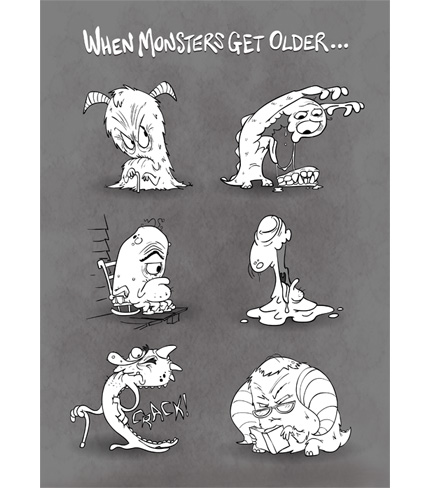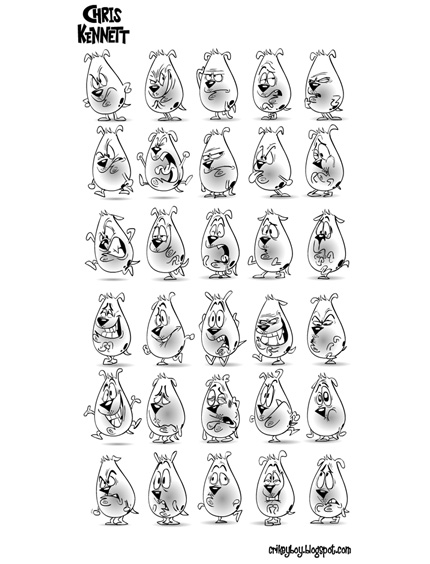 What are you spending your time on at the moment?
At the moment I'm juggling a few small freelance jobs, as well as promoting my new book Alpha Monsters and trying to write new ones. Usually, if I have a gap between jobs I'll sit and try to write a short story. Right now I'm waiting for the green light on my next book, which I'm desperate to do, because I think its a winner!
Do you have a ritual for getting into the creative mindset? Or a creative process?
Every now and then, after I've dropped my two kids at school, I like to give myself an hour in a cafe with a good coffee and my notebook. I spend such long periods of time at my desk, its refreshing to change the scenery. Plus there are so many distractions at your desk – email, Facebook, YouTube! So for me, it's good to get out of the house and keep it simple. A pen, a notebook and a good coffee.
What or who inspires you?
So many people its hard to name them all. There are people in the animated movie industry like Lorelay Bove, Nate Wragg, Lou Romano, Nico Marlet, Pete Oswald, Carey Yost, Steve Lambe, Kevin Dart, really the list goes on and on.
Then there are authors and illustrators like Bob Staake, Miroslav Sasek, Eric Carle and Roald Dahl. I'm also a huge fan of UK comedies like Spaced, Father Ted, Black Books, Big Train, The IT Crowd, Alan Partridge, The League of Gentlemen, Monty Python again the list is huge.
What are you most proud of?
Well I'm going to have to say Alpha Monsters because it was the first project that was all my own work. I came up with the concept, I approached the publisher (Scholastic Australia) and I wrote and illustrated the story. There's a real thrill in seeing something tactile, like a book with your name on it, sitting on the shelf of a book store. To date that's by far my proudest career moment.
When you were a child, what did you want to be when you grew up?
Probably a comic strip cartoonist. I LOVED Garfield as a kid and drew him all the time. Funnily enough one, of my last jobs was animating Garfield for his website, which was very cool!